A few weeks ago I posted an article about two umbrellas; the EuroSchirm Swing Liteflex and the GoLite Chrome Dome. I touched on the pros of owning a brolly and the many advantages they can provide. I also promised a post delving into these points in more detail so here it is. I do use mine coupled with a poncho, in my case the ZPacks model which with the brolly, provides an excellent wet weather system.
They keep you dry when it's raining. Bloody obvious one for starters but this is the main reason.
Of course it is. Take a walk down any High Street when it's raining and invariably it's a sea of brightly coloured umbrellas. This alone illustrates their popularity but why use them just in town?
Umbrellas are still a rare item to use when hiking but their number one use is to keep you dry, and they do a grand job of it. Perhaps the one let down is the lower half of your body, from around the thighs down, which may get wet. In the summer this doesn't bother me because invariably it's warm and stuff dries quickly, but I'd be the first to admit that they may not work for you in the winter when staying dry is paramount to keeping safe, so breathable waterproofs would be more beneficial, and advisable.
Very handy at breaks also, no need to look around for shelter, find somewhere to sit and stay dry.
 Starting the Appalachian Trail with the GoLite tucked into a side pocket for easy access
They keep your pack, and its contents dry.
The combination of the two is a highly efficient method of keeping the gear in your rucksack dry. We all get wet over the course of walking in the rain for a day. Body heat generated whilst walking should keep you warm but the dangerous aspect of walking in the rain is not getting your gear wet.
Reaching camp, kit needs to be dry, especially your sleeping bag and clothing. You need to know you will be dry and warm overnight.
A brolly will deal with most of the rain, the run off simply dripping over the poncho and onto the ground.
It is the most efficient method I know, and very reliable. I used this system on the Appalachian Trail, not exactly renowned for its dry conditions, and I never experienced wet gear.
They provide shade from the sun.
Not so much an aspect when out for day hike but on long distance thru-hikes, this is an important area to consider, in fact more so than use in the rain. Both the Pacific Crest, and Continental Divide trails entail several hundred miles of desert walking at the start where the temperatures can get dangerously high, with bright sunshine.
An umbrella, especially one with a reflective silver coating, will provide shade. This will protect you from sunburn, keep you cooler and more comfortable.
Umbrellas are used far more often for sun than rain (photo: backpackinglight.com)
They're the most breathable form of rainwear you can use.
Any form of breathable rain gear I have ever owned, whether Gore Tex, Event, or whatever incarnation each manufacturer uses, is uncomfortable. Even the best breathables cannot cope with the amount of perspiration a body loses over the course of a few hours in the rain. They're clammy, uncomfortable, and will have you longing for an escape.
A brolly is the most breathable form of rain protection available. Again, I use mine with a poncho which is far more vented, allowing air to circulate. Zips can be left open because an umbrella will deal with most of the rain.
Keeping dry in The Brooks range (photo: B. Kopp)
They save you a shit load of weight.
Let's use the summer as an example once more, when keeping warm and dry isn't so much of an issue. It is truly incredible the amount of gear that a brolly can make redundant. For starters, waterproof trousers and jacket. Then, the stuff you may not realise, a pack liner isn't needed, nor a pack cover.
It's not just the wet weather aspect, let's not forget the sun protection either. A brolly will mean you can carry less water because you're walking in the shade all day and will consume less liquid. Sun screen will be limited to the lower part of your legs so you save there too. These seem like small savings but on any long distance hike, and indeed the short ones, little savings here and there all add up.
A Liteflex brolly (210gr), and for example my ZPacks poncho (144gr) weigh 354gr combined. That's less than a lot of jackets out there alone, not even taking into account the trousers, pack liner, pack cover, and the small improvements like less water and sunscreen. Depending, obviously, what equipment a brolly replaces, you have the potential to save a minimum of 500gr.
As I've said before, less weight means you can hike further, faster, with less fatigue, less chance of injury and it is that much more enjoyable.
Keeping dry during a break (photo: backpackinglight.com)
They're extremely quick to deploy and pack away again.
Donning waterproofs is a pain in the arse. Firstly, most of us will delay this because on occasion the rain will occasionally stop. But, we usually delay because it means stopping, removing your pack, opening it and digging out the waterproofs, whilst getting wet just in the process. Put it all on, snap over your pack cover and at that point, the sun comes back out.
My brolly lives on an outside side pocket, held in place with shock cords where I can grab it without dropping my pack. For what looks like a light shower, it's up and working in seconds, without breaking stride.
So easy in fact that instead of trying to guess whether the rain will carry on, it's doing it's stuff, and just as quick to roll up and stow away again.
For heavier, or more prolonged rain, my poncho lives in the same pocket and with a little practice, this can also be donned quickly without removing your pack.
They can save you money by replacing several other items.
Decent rain jacket – about £200 / $300 to £400 / $600. Waterproof trousers – £80 / $120 to £200 / $300. Pack liner – £25/ $38, Pack cover – £20 / $30.
Grand total of £325.00 / $488 to £645.00 / $968.
Cost of a decent brolly – £30.00 / $45.00
Saving £295 / $443 to £615.00 / $923
You do the maths.
(ZPacks poncho currently about £100 / $150 but even with that, it's still a substantial amount.
They're extremely cheap for the benefits they provide.
See above! £30 / $45 is low enough for you to at least give one a go surely?
They attract a driver's attention when trying to get a lift whilst thru-hiking.
Sounds comical and admittedly this is a minor point. However, quick rides into town for food, laundry and the like mean on long trails mean us thru-hikers do all sorts of weird things at the side of the road. Grabbing a driver's attention is the name of the game. A large, reflective silver umbrella being twirled around catches the attention of most people, and that's all you need. Throw in a cheeky grin and your chances of getting that ride is increased.
 Getting a ride to town (Photo: hikelighter.com)
Is that the lot?
– Nope, there's more.
Not so much for the guys, more for the ladies but a brolly can provide an excellent visual barrier for toilet stops. Doing your business in private is easy.
Keep items in the open dry and safe. Studying your map in the rain is easy, it stays dry under a brolly. So will your phone if your using that for viewing maps or apps. If you wear glasses, you'll never need to wipe again.
In some instances, they can provide protection against a damaged shelter. On the PCT, my tent gained a rip on the vestibule. I placed my open brolly on the ground underneath it and it worked a treat. Tarps sometimes have 'weak' spots where rain can work its way under (the end or sides, especially in wind gusts). Anchor your umbrella down and it may just save a wet sleeping bag.
Anchoring down a brolly is straight forward. I carry a couple of light tent pegs, one goes over the shaft just above the handle and into the ground, then a further one over one of the ribs under the canopy. This is remarkably secure and will prevent it blowing away in the wind, making it ideal for sheltering a fire from drafts, or for use under your tarp.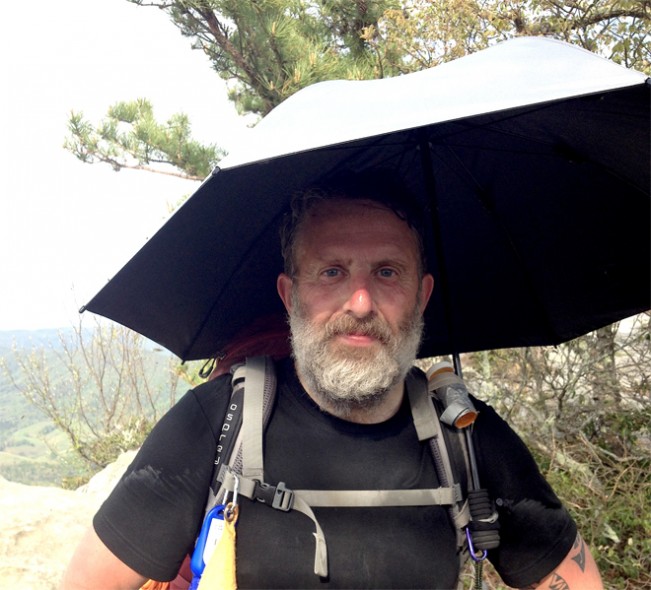 (Anchoring is possible with a few gear tweaks. Not, that's not me by the way. Photo: appalachiantrilas.com)
Problems
Wind
They're not without problems but even taking these into account, I'd always still have one with me.
First is the wind. We've all seen the classic reverse wind thrust where the gust changes direction quickly, catches you unawares and before you know it your brolly is inside out.
Always face your brolly into the wind and anchor it against you, and you pack. Pull it in tight against you, hold it securely (often with both hands) and your body will prevent this.
It takes up one hand and your arm will get tired.
True, and not true. Yes of course it takes up one hand, this presents a problem when using trekking poles (see next point). In the case of the Euroschirm Liteflex, and most light hiking brollies, the weight is minimal and has never caused me any issues with tired arms. I swap from hand to hand every ten minutes or so.
See, no hands. (photo: onda.org)
You can't use it with trekking poles.
Certainly not two, no. Many hikers get around this problem by attaching the brolly handle, or shaft, to shoulder strap of their pack. It may take some fiddling with cord or elastic but perseverance will pay off. Many ULA packs, unintentionally, anchor a brolly handle securely on the shoulder straps.
However, anchoring is not as efficient as carrying because brollies need adjusting to angle towards the sun or rain. Anchoring sometimes leaves you open to either but still, I use this method often purely because I use trekking poles also.
There are various ways of attaching the brolly to your pack, but they all involve a similar method using the shoulder strap. There is a nice post by Rambling Hemlock on a super cheap, easy and effective way to do this HERE.

They don't last.
If you look after your brolly there's no reason it won't last the distance, especially a thru-hike. Be careful when walking through thick undergrowth because it can snag on sharp plants. Pay attention when it's windy, keep it anchored against you so it doesn't blow inside out, which weakens the ribs. UV rays will attack any piece of material but there's nothing you can do to prevent this.
My last Go-Lite completed half of the PCT and the entire AT, around 3500 miles. And, all gear will break, tear, or whatever after a while, and many times it can be repaired in the field.
Summary
They're light, cheap, easy and quick to use, plus they save you a load of money and weight. For me they're a complete no brainer.
Go on, give one a try. Go with it . . .