My 2,650 Mile Adventure on the Pacific Crest Trail
Part 1
Monach Meadow – The Sierra Nevada (K. Foskett)
Welcome to the blog of my 2010 Pacific Crest Trail thru-hike. Feel free to browse your way through my amazing 2,650 mile / 7 month adventure on possibly the greatest long distance hiking trail in the world. All my views and experiences as well as photos and video. To just see videos or photos on their own please hit the relevant link under the PCT tab above. Enjoy!
If you're interested in reading the full account of my Pacific Crest Trail adventure my book, The Last Englishman is available from the book store. The Great Outdoors Magazine shortlisted the book as Outdoor Book of the Year 2012. It is available as paperback or Kindle download (you do not need to own a Kindle to do this, there is an app for most smartphones, iPads etc). Click on the book for full details, reviews, ordering and you can read the first two chapters for free.
February 10th, 2010 – In the beginning
2 months before I make my first steps on the Pacific Crest Trail and there is gear strewn around my spare room, boxes opened with boots hanging out, lists of things to do, stuff to buy, arrangements to be made and bits to organise. This is the part I don't relish, I just want to get out there and start walking, the mechanics and organisation, whilst necessary, annoy me.
I doze off every night imagining the first few weeks walking through the southern Californian desert. Daytime temperatures in the 90′s and the nights dipping to below freezing. I think this will be the hardest section of the whole hike. Unrelenting temperatures, gear being worn in and my body screaming What the hell are you doing? The first 3 weeks in particular will be the sternest test, once I get through that I know it can only get easier . . .
February 28th, 2010 – What is The Pacific Crest Trail?
The PCT is a long distance route beginning at the border between California and Mexico, near a little place called Campo. It winds it way north through the States of California, Oregon and Washington and finishes in Manning Park, about 9 miles over the border into Canada.
It boasts the greatest elevation changes of any of America's National Scenic Trails, allowing it to pass through six out of seven of North America's ecozones including high and low desert, old-growth forest and artic-alpine country. The PCT is a trail of diversity and extremes. From scorching desert valleys in Southern California to rain forests in the Pacific Northwest, the PCT offers hikers and equestrians a unique, varied experience.
As the crow flies, the distance from start to finish is about 1000 miles. However, due to the PCT weaving east and west, the total distance is some 2650 miles. The 'average' thru-hiker (a person who completes the PCT in one attempt) takes around 6 months to undertake the trail and walks around 15 to 25 miles each day on average. 'Zero' days (rest days where no walking is done) happen about once a week. I'll be posting some 'Fun Facts' about the PCT every few days. Here's the first ones:
1) It passes through three states (California, Oregon and Washington).
2) Climbs nearly 60 major mountain passes.
3) Descends into 19 major canyons.
4) Ambles past more than 1,000 lakes and tarns.
March 1st, 2010 – Training
How do you train for a 2,650 mile walk?
You . . . well, walk!
I've been carrying a backpack with 10 litres of water (about 10 kilos in weight) whenever I go out for a stroll. Ideally, and unfortunately, this means going up and down a local steep hill several times. Monotonous but necessary. Of course I'm still going for longer walks as well, that's never boring.
2 hours of exercises each day such as raising a lowering a straight leg whilst sitting in a chair, with 4 cans of baked beans hanging off to make it harder – and it does hurt. Walking lightly exercises all of the required muscle sets but others, such as calf's and quadriceps need strengthening. Also a little yoga which I feel is very important to stretch, build strength and prevent injuries.

The psychological training I can't really do anything to prepare for, that kicks in when I set off.
March 2nd, 2010 – A word from one of my sponsors!
Montane are supplying my waterproof / breathable jacket and trousers, as well as an insulated down jacket. Hopefully the waterproofs won't be needed for much until I hit Oregon and Washington States but with nighttime temperatures dipping well below freezing in the desert and cooler nights up in the mountains, my Anti-Freeze jacket will prove invaluable from day one.
In the brief time since 1993, Montane clothing has been integral to some of the most extreme undertakings known to man.
From the youngest person solo and unsupported to the North Pole, to the first wheelchair bound person to the North and South Poles; from climbing unnamed peaks in Greenland to running the Yukon Arctic Ultra Marathon; from professional mountain guides to committed volunteers in Mountain Rescue; from the dog-sledding speed record to cycling the Transalp in record time – their kit is there. There are simple reasons why exceptional people use our gear for extraordinary undertakings – because it is solid and dependable; uses the very best fabrics available today, and with only the sport specific features you need, it keeps the weight low and the comfort and breathability high.
Montane have been kind enough to supply me with Atomic DT jacket and pants and an Anti-Freeze down jacket. I have full confidence in staying dry and warm.
Great shots of the PCT No. 1
Rainbow -Yosemite (K. Foskett)
March 3rd, 2010 – Fun Facts No.2
Did you know that . . ?
It was recently pointed out that fewer people have thru-hiked the PCT than have climbed Mt. Everest! Could it be that a thru-hike is tougher than climbing the tallest mountain on Earth?
March 2nd, 2010 – Fun Facts No. 3
In spring 2003, the Travel Channel chose the Seiad Valley Cafe (in Seiad Valley, near the Californian /Oregan border) as the third best location in the world to "pig out." They were referring, of course, to the cafe's great "pancake challenge" which tempts hungry thru-hikers to finish a mammoth stack of pancakes in one sitting. Few have succeeded. The Seiad Valley Cafe appeared on the Travel Channel's "Gross Outs: The World's Best Places to Pig Out" program.
March 3rd, 2010 – Why?
Good question. Why walk for such a stupid distance? Why walk at all? Several reasons:
1) Escape. I think we all need to get away once in a while. Whether it's a weekend away or a 2 week summer holiday, it recharges the batteries and we come back feeling refreshed. I just find 2 weeks never long enough.
2) Perspective. Sometimes we lose sight of what we're doing and where we are going. We get stuck in the 9 to 5 and before we know it, we've retired! Time away from the usual gives you a different perspective and gives us new ideas and insights on where we are in life.
3) Because I don't want to be old and grey, with slippers and a pipe thinking – Shit, I wish I had done that.
4) Because you get ridiculously fit, physically and mentally, and feel fantastic.
5) Its a test of your strength as a person. For all the good days, there will be some right stinkers too. If you can get through them all then it's a better person that comes out of the other end.
6) You don't have to wake up to an alarm clock.
7) You met loads of like-minded people and make friends for life.
8) Or, put another way, in the words of Mark Wallington (Author of Travels with Boogie) –
The best journeys have no motive. They are capricious affairs, made for no other reason than they exist, for no other goal than fun.
Fun Facts No. 4 (x2!)
1) The PCT crosses the world-famous San Andreas Fault three times.
2) As the crow flies the distance between Mexico and Canada is just over 1,000 miles. The PCT is two and a half times that.
March 5th, 2010 – Latest Sponsor: Stickpic
A through-hiker on the Pacific Coast Trail reaches a major mile marker on her 2,700-mile, six-month hike. It's 7:00 in the morning and she is standing alone on the top of MT.Whitney. The weather is perfect and she can see for miles in all directions. A photo or video moment!
This hiker has two choices: wait hours for someone to come along and take this perfect photo or attempt to take a self- portrait by stretching her arm out as far as she can holding the camera in her hand and trying to guess at a good angle. These self portraits usually end up very disappointing with a blurred close-up of a face and very little scenery in the background.
Now visualize this:
While alone on top of MT.Whitney, this hiker pulls out her 10-gram StickPic, quickly attaches her camera to the end of her hiking pole, and snaps a beautiful, well-proportioned, perfectly centered picture of herself and her surroundings. Even better, while using the StickPic, she uses the video feature on her digital camera and makes a vivid documentary about her trip. If a picture says a thousand words, a video says a million!
Weighing only 10.5 grams, it comes in five different models, to fit 90% of all common trekking poles. A prototype of the original StickPic was first introduced to the hiking community at the Tenth Annual Day Zero Pacific Crest Trail Kick Off (ADZPCTKO) at LakeMorenaCountyPark in San Diego on April 25, 2008. We now have 150 through-hikers testing the StickPic on their journeys and we're gathering comments, suggestions, and success stories to help us perfect this exciting product.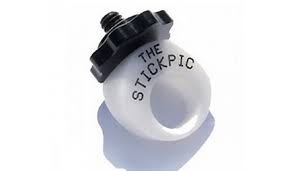 Great shots of the PCT No. 2
Looking south from Forester Pass (K. Foskett)
8th March 2010 – Latest
The closer the departure date gets, the more needs to be done. The more I do, the less the list of things to do goes down?
Most of the sponsor requests have been done and most of the replies recieved. Good response all round and well worth the effort and about £1000 saved in gear.
Insurance still to sort out and flight to be booked but heading off to San Fransisco about 20th April. A couple of days with some relatives in San Jose who will be acting as base HQ for me (looking after surplus gear, mailing stuff to me en-route and taking stuff back that I send them).
ADZPCTKO
What is the ADZPCTKO?
This stands for Annual Day Zero Pacific Crest Trail Kick Off and if anyone is planning on thru-hiking the PCT each year then they gather at Lake Morena camp ground around the end of April.. It's timed a few days before the date that is generally considered to be the optimum time to start the PCT after weather and snow have been taken into account. Everyone pretty much camps, there are gear manufacturers there, food stalls, drink, film shows and basically it's a great time to meet fellow hikers, chat the chat, eat and drink. See HERE for details.

9th March 2010 – Olympus Sponsorship
I needed a camera that had to stand up to the rigours of a trip of this kind. It had to be very sturdy, ideally waterproof, lightweight and able to cope with temperature extremes.
I'm pleased to say that Olympus Cameras have kindly supplied me with an TOUGH-3000 compact camera. This meets, and exceeds all of the demands above and has a host of features including full HD Movie capability so you can all see what I'll be up to with the aid of a few film clips.
Take a look HERE
Olympus have also supplied a digital voice recorder to enable me to make verbal notes as I walk which can be written up at the end of the day in my diary. These, in turn, will be used to update my Blog as I go and also form the basis of my next book at the end of the PCT.
My thanks to Francesca Sanchez and all concerned at Olympus for their help and generosity.
9th March 2010 – Fun Facts No. 5
The PCT passes the three deepest lakes in the nation; Lake Tahoe (1,645 feet), Crater Lake (1,932 feet) and Lake Chelan (1,149 feet)
10th March 2010 – Hydration and Water
Possibly one of the most important areas to consider when attempting the PCT. Staying hydrated isn't a choice, it's a necessity. Never more so than in the first couple of months in the Californian Desert. With day time temperatures in the 90′s and 100′s it's not unusual to get through a litre of water every 3 miles, or 20 minutes. On a long stretch that can mean 7 litres of water, or a whopping 7 kilos! Some parts of the PCT are waterless for 30 miles, I'll let you do the maths on that one.
It's not only the quantity, it's also the quality and availability. You don't reach a tap every once in a while. Water has to be sourced and treated. Generally the available guidebooks will tell you where water sources are located which is helpful but not always accurate. These can be dry, too badly contaminated to use or simply not there anymore.
I will be using Eric the Blacks Pacific Crest Trail Atlas which, as far as I can tell, provide the most accurate and up to date water info I can find as well as loads of other info necessary to hike the trail.

Water then has to be treated to make it drinkable. I will be filtering my water. It will be carried in a Nalgene 3 litre CXC Reservoir which is basically a water bag inside my pack with a tube running outside where I can drink without taking my pack off or reaching for a water bottle. Nalgene have very kindly supplied me with 2 of these (one spare) plus a litre water bottle as well. 
There are methods to make all of this easier. For example, camping near a water source means it is at hand are convenient for the evening and morning. Drinking a litre whilst you are at a source and then carrying what you need is useful as it is being used to keep you hydrated and will be good for a few miles.
Coming soon . . . eating.
12th March 2010 – Fun Facts No. 6
Eric Ryback, popularly known as the first person to hike the length of the PCT, carried an 80-pound (40 kg) pack on his 1970 thru-hike. He had only five resupply packages on the entire trip, and was loaded with 40 (20 kgs) pounds of food at the start of each leg. He often ran out of food and foraged or went hungry.
Great shots of the PCT No. 3
Evolution Lake – The Sierra Nevada (K. Foskett)
13th March 2010 – Visa secured!
After a shaky return to the American Embassy in London this week I finally managed to secure the necessary visa to enable me to be in the States for more than the usual 3 months. My previous visit had failed on a minor discrepancy so it was with shaky hands that I handed over my application for a second time but all is well.
13th March 2010 – Thanks.
Many thanks so far to those that have contributed to the Multiple Sclerosis Society via the link over in the right hand margin. Namely Josie & Tony Laker, Katie Bryant, Julia & Mickey Banks, Ramesh & Nim Shingadia.
If you're not aware that I'm trying to raise a little money for a cause close to my heart please check out my Just Giving page by clicking on the link and if you can, please give a little for a worthy charity.
15th March 2010 – Fun Facts No. 7
Brian Robinson hiked the PCT, the Appalachian Trail and the Continental Divide Trail in 2001 (the first person to complete a calendar-year Triple Crown). His pack weight averaged 19 pounds in winter conditions and less than 13 pounds in warmer conditions, plus food. He resupplied almost every four days.
Believe it or not, hikers can get through up to 5 pairs of shoes on the PCT. The running shoes some wear are only good for about 600 miles, sometimes less before they fall apart. Some wear low cut (ankle) versions of the classic hiking boots which fare a little better.
17th March 2010 – Thanks to Inov8 for shoe sponsorship
I will using a pair of Inov8 Roclite 288 GTX's, claining to be the lightest waterproof boot in the world, they weigh in at a meagre 288gr (10 ounces) each. They will give me good support, obviously light weight, ankle protection, being waterproof my feet will stay dry and they are good fit for gaiters when I encounter snow in the higher elevations. I have 2 pairs kindly donated by Inov8 which I hope will last the whole distance. The second pair is a half size bigger because feet flatten out on long distance hikes so I will need a bigger size!
18th March 2010 – Fun Facts No. 8
In California, hikers and riders on the PCT often must cover 20 to 30 miles of trail between water sources. The longest waterless stretch on the trail is 35.5 miles, north of Tehachapi.
Assuming it's hot, which in this area is pretty much a foregone conclusion, this would mean carrying a whopping 6 litres of water, or 6 kilos. With actual equipment and food I could have around 19 kilos strapped on my back (app. 42 lbs).
Food
The average person eats around 2000 to 2500 calories a day. On a hike as big and as long as the PCT this figures jumps up to upto double that, at 5000 calories a day. This is what I need to consume to give me the energy I require. That said, the chances are that my calorific expenditure will exceed what I can eat because it's nigh on impossible to carry the amount of food required to keep up with what I will be burning. Put simply, I need to double what I eat at the moment, and I will still probably lose weight.
So, what do you eat on the PCT? The trick is to carry the lightest, most compact, transportable (i.e. – doesn't perish) with the most calories possible. You don't mess with canned goods (too heavy), most foods that require cooking are dehydrated in some way so water is added which I will already (hopefully) be carrying. Good examples are pasta and rice. A rucksack bouncing up and down all day will destroy any food remotely 'fragile' so crisps, crackers, bananas etc need to be packed carefully. It's no use carrying pasta tubes, for example, because they contain too much 'air', far better in the form such as couscous which will give me more food for the space.
This all sounds pretty dire in the taste department and it can be. There are tricks to spice things up like stock cubes, pesto in a tube, shaving off some salami into the pot or even carrying a small amount of spices (chillies etc). I have to try and vary my food choices otherwise I will rapidly become bored with them.
There is snacking as well for those times between breakfast and lunch and lunch and dinner. Trying to pack 5000 calories into three meals may not be hard but it's easier if you spread the intake a little. Snacking on such things as nuts (huge amount of energy and protein), dried fruit like raisins, cranberries, apricots etc will suppress my hunger at these times.
By the time a thru hiker hits a town or village (on average once every 5 to 7 days), the only thing on their mind apart from a shower and motel is food and lots of it. Town stops are utilised to make up calorific deficits and to eat what is unavailable on the trail. Fresh vegetables, fruit and meat. Ask any PCT hiker what they think about the most and 10 times out of 10 the answer is food. It is an all consuming fixation for most, the most talked about subject.
There are famous places along the trail which have sprung up to service the PCT hiker. All you can eat pancake mounds, ice cream challenges, you name it. Some establishments with 'All you can eat' signs or 'Unlimted salad bar' have actually banned hikers because they eat too much!
Cooking
Gone are the days of lugging about a Camping Gas stove with a blue cylinder. There are still cannister fuelled stoves on the market, and good stoves they are. However, the disadvantages are trying to guess how much fuel you have left by shaking and listening . . . Once they are finished they have to be carried until they can be discarded, invariably into landfill.
I will be using something called the Caldera Cone, designed and manufactured by a company called Trail Designs and supplied to me via Anti Gravity Gear, both in America.
There are two parts to the Caldera system. Firstly, the stove, which weighs an incredible 1/2oz (16gr). This runs on meths (denatured alcohal in the States). For me to boil enough water for a hot drink and a hot meal, this little beauty uses a miniscule 20ml of fuel (about a tablespoon!) This means my fuel for a week weighs little. The actual burner is recycled from an aluminium drinks can and can obviously be re-cycled at the end of it's life, which will be a long way off.
The second part of the system is an intergrated windshield and pot support. Traditionally, I would need a pot stand and a windshield. The Caldera Cone's designs incorporates both into one with a 'wrap around' section of aluminum or titanium, protecting the flame from wind and supporting the pot in one.
My thanks to Rand at Trail Designs and George at Anti Gravity Gear.