Firstly – A Quick Piece about 'Sodding Off'
I wasn't aware that 'Narky' was even in the dictionary, but it is. The online Oxford Dictionary offers:

bad-tempered or irritable:
she got narky with this bumptious little prat giving her lectures
It describes perfectly the character behind an occasional anonymous email I receive in response to a gear review. I know it's the same person because the content and general wording is similar – i.e. hovering around kindergarten English standard. The context is always the same in that it makes reference to the fact that I get free gear to review and am subsequently biased, I am bound to give said items a good review because I am obliged to do so for the sake of sponsor relations.
I'm sure this may be true for some reviewers but in the main, especially the bloggers I associate with, I like to think that if there are faults in an item of gear then we would say so. There are ways of presenting problems without sounding harsh and let's face it, if there is something wrong then we wouldn't be being honest to ourselves, to the reader or to the company concerned. The whole point of a gear review is just that, to test items, observe how they perform in an outdoor environment and subsequently report of the pros and cons. If something is wrong it needs to highlighted.

The other point this person fails to understand is that I and other reviewers are lucky enough, occasionally, to be in a position where we can approach a manufacturer and request gear because firstly, we do actually need it and secondly, we pretty much know it's excellent because of the reviews and feedback already out there. Depending on whom you are and what you do will dictate whether said company grants your wish. For example, Sir Ranulph Fiennes probably doesn't even need to ask, he just clears his throat expectantly, nonchalantly waves his hand and several thousand quids worth of equipment gets delivered by a naked Swedish model, with gift wrap, shortly after. I, on the other hand, do pretty well but getting sponsorship is simply down to being a bit cocky and annoyingly persistent.

My point is this. Some of my gear I have bought myself or have been asked to review but most is stuff I have asked for and am therefore pretty sure it's going to be great, otherwise I wouldn't have asked for it. If I need a new sleeping pad for a thru-hike which needs to last for 6 months then I ain't going to send the camping department at Tescos an email, I'll approach the manufacturer that I'm pretty sure is kicking out the best pad there is for my particular needs and I'm grateful for the fact that a lot of the time I am lucky enough to get a positive reply. Therefore, it is highly unlikely that the review will be poor.

So, with the greatest of respect, I would like to reply to whoever sends me these emails:
"Sod off you annoying little gobshite."
On to more important things.
Getting Sponsorship
This time 3 years ago I was in the last stages of getting what gear I needed for my Pacific Crest Trail thru-hike. My last attempt at sponsorship was way back in 1994 when I did a 6 month cycle tour with a mate. We got a few freebies but it taught me some lessons on how to approach companies. As it turned out I did pretty well for the PCT; I scored all my footwear through Inov8, a camera from Olympus, a lot of clothing including socks from Smartwool, hydration equipment from Nalgene and cooking equipment from Trail Designs. This totalled about £1100 / $1650 which naturally I was chuffed to bits with and more importantly, saved me a shed load of money which meant I had more funds available for the hike and therefore, I had more chance of success.

Remember, I did this on a first attempt. So, how did I do it and can you do the same? The 'how' is explained below and yes, you certainly can do the same! 
How much can you save?
Let's assume you haven't done a thru-hike, haven't got any gear and need to save as much money as possible. What amount are we talking?

Backpack – £165 / $250
Tent – £200 / $300
Sleeping mat – £80 / $120
Sleeping bag – £200 / $300
Footwear (assumes 4 pairs) – £400 / $600
Clothing (Base layers) – £150 / $225
Waterproofs – £150 / $225
Insulated Jacket – £120 / $180
Socks – £50 / $75
Trekking poles – £80 / $120
Cooking & food equipment – £80 / $120
Trail food main meals (dinners) – £600 / $900
Head torch – £50 / $75
Hydration equipment (water filter, bottle and camp water bag – £60 / $90
Sunglasses – £30 / $45
Camera – £100 / $150
Total – £2515 / $3773
(Please assume these are average prices. Yes, I'm sure you can maybe get them cheaper and my friends in the States will probably get them even cheaper than that).

There is also insurance and flights which if you're flying to the States from Europe could easily nip in and swipe another £1000 / $1500 from the bank account.
Grand total – £3515 / $5273
It's a lot of money isn't it? Certainly it could be make or break for actually being able to go and do a thru-hike or not. OK, so I'm not suggesting you are going to get all of this gear supplied for free, that would be pushing it but, even if you scored your footwear that's a potential to save a huge £400 / $600, which would mean well over a months' worth of expenses (motels, food etc.) whilst you are actually on trail.
Initial information
You only need to use email for contacting companies, don't bother with calling them apart from the advice in the next paragraph if you want to use it. Phone calls for sponsorship take time and are ineffective, email can be tailored to each piece of gear you need, the wording and pitch can be honed to sound great and emails are free. However, a quick call to find out who deals with sponsorship is worth the effort.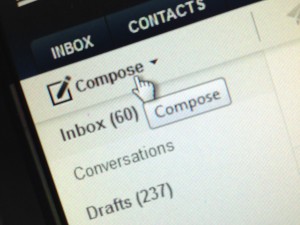 Sound positive, raise your voice a little and try not to ask your question. Dispense with 'Can you tell me', or 'Who is the person.' Be confident like they should be helping you (which, let's face it, is what they are there to do) and get straight in there:

"Hi, I need to get an email to the right person. Who deals with sponsorship requests?"

This is a closed question, it puts the person on the end of the phone in a position where they feel they cannot answer yes or no but need to give you a name. You should get the name just with this question. If they ask who's calling just give your name. If they ask for a company name say there isn't one. If they say they aren't doing any more sponsorship this year say it's fine but you still would like the name please. Some receptionists believe that their very existence on this planet relies on them being as awkward as is humanly possible and not providing information under any circumstances. Be polite, hold you ground and you should get a name.

"And their email address please."

If you really try and can't get any info, just leave it as it's not the end of the world. Send them an email if you prefer and just ask the same question, it may take longer though.

You are going to put in effort to get sponsorship, you may as well make sure it gets to the right person. This sounds obvious but a little time spent looking around the contact area of a company's website (which is nearly always found at the bottom of a webpage) will result in a 'Sponsorship' email address, maybe even a name. Requests sent to general enquiries or some other department will at best take a while to be re-directed, or at worst, just get ignored. Get it to the right place.

Then, you need to compose your email. You can score brownie points before you even compose the main message by getting their attention in the message box. Don't put 'Sponsor Request', it's boring and will get shifted to the 'deal with later area'. Be funny if you like, just grab their attention. If it's shoes you need you could try:

'Hiking 2,000 miles with bare feet'. They'll probably open it just out of curiosity. If it's food maybe go in with:

'Hiking for half a year on no calories.' Or '360 packs of Ramen isn't going to do it.'

You only get one shot, make sure you use it.

Trail Designs were my first sponsor and still support me
OK, so you've got the right person, the correct email address, and you've got their curiosity. They've opened your email, now you have to be original, funny helps, cocky if you're careful and you need to grab their attention quickly, these people are busy and it's their job to dispense with as many requests as possible unless they like you. Sure, gear companies require a lot of things such as exposure in return but if they like you, if you can even make them laugh, you really have done most of the work.

Be as brief as possible but provide the information they need. It's about educating them to your needs in as short a script as possible. They get thousands of requests each year, you need to stand out and you need to stand out quickly.

1)    Firstly, be specific. Don't say 'I need a tent', state exactly what you need.

"I need a seam sealed Tarptent Contrail with yellow, reflective spectra cord guy lines, integrated line tighteners and titanium tent pegs".

This makes you sound professional because you know exactly what you need and not just someone who's making a half arsed attempt to do a thru-hike (or whatever activity).

2)    Provide details of what you're doing, not in 10 paragraphs, use one line. Don't use words like 'attempting' or 'going to try'. Be positive and tell them what you are going to do:

"I'm going to hike 2,640 miles on the Pacific Crest Trail."
3)    Make your trip sound immense and a true hardship, they love all that stuff.
"It mixes remote desert with high altitude mountain ranges, intense heat and bitter cold."
4)    Explain why you need the item you're asking for and make them feel good by saying you think their product is the best.
"I will be camping for 95% of the trip and need a tent I can rely on. Your product consistently scores brilliantly in reviews and my friends recommend you as a company. You are my first choice."

5)    If you're raising money for a charity include that as well.

6)    Lastly, tell them what you can do for them (see below)

You should, and could, be able to do all that in a maximum of 300 words, make it less if you can. Don't put it rubbish that's not needed, if your message is 150 words and you've included the above points and stated your case, then 150 words is enough.
Gear companies are after one thing from sponsorship and one thing only – Exposure. The more their brand is out there on the trail, or seen on an athletics track, or on the wings of a plane the better. The more exposure they get, the more products they sell and the more money they make. Tell them how you can do this.
Rab were very good to me during my Appalachian Trail Thru-Hike
 Tell them what you can do for them.
 If you haven't received sponsorship before the exposure you can offer will probably be limited, but you can still make it, and you sound good.
However, the one, main action you can do to put events in your favour is to start a blog.
Do this a good month minimum, 3 if you can before you approach sponsors and put as many decent posts on there as you can. Make it look professional and make it look like it has been going for 2 years. Put in reviews on stuff you already own with good photos. Put in some trips you have done, post some comments about anything you like, make it interesting. Tell them you will put their logo on the site in a prominent position and that you will write a post about their gear. If you have some gear already then write a review of it and put that company's logo on the blog, just because you don't get sponsored by someone doesn't mean you can't put their logo on your site, it looks professional and makes people think you are sponsored by them.
Provide details of all the walks you have done. Gear companies like to see previous trips under your belt, it shows you have commitment and are prepared to see things through. If you haven't done a biggie at least tell them what you have done. You can spice it up a little to make up for any lack of previous experience by saying 'After the PCT I plan of tackling the AT and the CDT also.'
Tell them you plan to video the event and will post on YouTube and that you will get their gear in the shot. If you're going to write books then tell them this also. I won't lie to you, first time sponsorship if you have little hiking experience isn't easy but it is not impossible as I proved with my first big hike on the PCT.
Remember, keep your email as short as possible, between 150 to 300 words. You have limited time to make an impact, they have little time to read requests and if they open your email and it has 3,000 words they will lose interest before they even start to read it.
The 3 P's
Polite Persistent Pestering
This is important, perhaps the most important point of all.
You've done the hard work, you've got the email to the right person, you've though of a good title and you've composed a good pitch. Now, this is where you will score points if you put in the effort and stay with it.
Wait for one week. If you haven't received a reply (which you probably won't have) send them a very polite reminder and ask for a response but remember, although you are chasing them, careful wording is essential. Something like this:
'Hi.
I sent you an email on 12th March (there is a copy below). I realise you are probably busy but I was just wondering if you managed to take a look at it?'
Thanks
Wait another week (because you still probably won't have had a reply) and send another reminder using a similar format. I refer to this process as 'Polite persistent, pestering'.
Keep doing this until you get a reply. Remember, you are not bothering these people. You are doing them a favour as well; you are offering to promote their stuff. Do not give up under any circumstances. You are not being rude; you are not being annoying. Even if you were, you'll probably never meet the person on the other end so why worry? Your objective is to get a reply. Eventually the person will answer you to try and make you go away; it's an answer you need, even if it's a 'No' it doesn't matter as all is not lost with a 'No'.
Most manufacturers assume sponsor requests go away if they don't respond. It will probably be a stock response telling you their sponsorship budget for that year has been reached or they have cut back due to the financial climate.
OK, so eventually you will get a reply. Obviously it's a either a yes or a no. Chances are it's probably a 'No'. If so, do not give up. Send a polite response again, thank them for replying and ask if they would be at least prepared to offer you goods at trade price which is often at least 50% off the RRP. This can produce excellent results and at this point they will probably entertain any idea to get rid of you.
If the answer is yes – great!
Treat any sponsors like gold dust and build a relationship with them. Extoll their products; send them the occasional email telling them how you're getting on. Build a good understanding and they will look after you if they think they're getting a good return on their investment. I send my sponsors postcards from the trail, it's a nice touch and they'll remember you for it. Be loyal, if you've scored the pack you need then why change it? If they like what you're doing for them the chances are that when you need another one they'll help you out. You've done the hard work getting them on board, it makes sense to look after them.
The more you progress in your hiking 'career', if you choose to do more than one hike, the more successful your hit rate will be because sponsors realise you're not just doing one thru-hike, but plan on more. Work on your blog, make your website stand out. When you request sponsorship use the success you already have, say to them:
"If you would like to join the companies who already support me like Olympus, The North Face and EatMe Trail Foods . . ." etc. This lets them know that someone had faith in you and saw potential, maybe they should as well.

An example

Hiking the Pacific Crest Trail with a ULA pack
In 2010 I was researching packs for my Pacific Crest Trail thru-hike. I did my research, I tried a GoLite but didn't like it. Granite Gear packs ticked a lot of boxes except they were a little on the heavier side. Fishing around the web I started to see good things being said about a company called ULA and their range of packs so I composed an email and sent it off to them.
I think it was a week before Chris, the owner replied with a very nice email saying he would like to but couldn't at the time. I replied asking if he could do one at trade price which also wasn't successful. This was the pack I needed so I ended up paying for it.
I met Chris at the PCT Kick-off Party at Lake Moreno. He joked about my persistence, helped me adjust the pack and wished me well. All through my hike I never gave up and continued to pester (politely). I sent him a postcard, a few emails telling him how I was getting on and always, cheekily, ended by saying:
"I still want the next one for free."
He remembered me; I stuck the ULA logo on my website anyway because it was a great pack and we kept in touch. I sent him a copy of my book when I finished it and even put him in the sponsor section. At one point he sent me a photo he has of a lady wearing one of his packs, taken from behind with her wearing no trousers and with her arse on full show. The message to me was simple:
'She gets one. You don't.'
Still not giving up, at the end of the PCT hike with fellow Brits Nick and Chris we plotted a little revenge. Placing the camera on a tripod, we then donned our packs (all ULA) and lined up with the camera behind us and promptly dropped our trousers. I emailed it to Chris with the message:
'Do we get one now?'
ULA now supports me very well and we share a great relationship.
Be persistent, it will eventually pay off, even if it take months. Companies realise that persistence is a good trait; you might be a pain in the arse if you pester them but it also shows that you don't give up easily.
NEXT BLOG POST
The new Sawyer Squeeze filter, now with the pouch durability problem hopefully addressed. I'll also be looking at their camp water bag taking on the likes of MSR and Platypus. It also can be used as a gravity filter. I'll also have 5 filters as prizes in a little competition.