The majority of the population have probably not heard of Chris Townsend. If you're not into nipping up Striding Edge and down Swirral of a Sunday afternoon, or tackling Carn Mor Dearg because you've done the Pony Track 3 times already then you probably haven't.

If, however, you know that the Cairngorms is in Scotland and Lejog is a walk spanning Great Britain then you probably have heard of him. Chris Townsend commands an awful lot of respect in the outdoor scene and it's not hard to see why. He's a humble guy to talk to which I had the pleasure of doing briefly at last years The Great Outdoors Magazine Awards where he picked up the prize for best book, leaving me, and my book, languishing somewhere halfway down Striding Edge in a trail of respect.
Chris camping on the Kettle Crest on The Pacific Northwest Trail
When I was 11 years old with dreams of becoming a professional basketball player he pulled in a 1,000 miler to walk from Lands End to John O Groats (which is still on my wish list). I still hadn't finished school and was listening to The Cure when he walked the Pacific Crest Trail, some 2,650 miles long and provided me, years later, with the inspiration to go and hike it myself. The CDT passed under his boots 3 years later when I had just started my first job and a Ford Capri was the car to be seen in. The list goes on.

Chris has done some serious hiking for exactly the same reasons as I hike; to experience our outdoor world, often in remote, pristine wilderness, for an extended period of time. We have both shunned the traditional 9 to 5, taken risks financially, been frowned upon by our friends because of our 'different' lifestyle and pursued  a way of life most people cannot comprehend, understand and certainly not undertake.

I was going to ask Chris the big question – 'Why'? I didn't because us thru-hikers get a little fed up with being asked it and secondly, if you do have to ask then you probably won't be able to relate to the answer anyway. And finally, I already know the answer because it's for exactly the same reasons as I do it.

Being in our great outdoors changes us for the better. If you're ever lucky enough to be able to spend a few months in the wilderness you will realise what an amazing, nurturing experience it can be. It does change people, it invigorates the soul, feeds the imagination and instils a confidence that not only can we do what we would really love to do with our lives, but gently pushes on the path to go and actually do it. Think of it as the career advisor back at school who actually listens to what you're saying.

This is why I thru-hike, spend as much time in the outdoors as I can and my writing is the net result of this nurturing, this is where nature has pushed me and given me the confidence to chase a dream. I'll lay good money down that it is why Chris Townsend has followed a similar path.

His work in conservation, protecting our wild spaces; standing up for all those who love the outdoors and for doing the right thing is aspiring to us all. So, what does he have to say for himself?
By way of introduction to those out there who for some reason have not managed to hear of you, or read the above paragraphs, who are you?
I'm a passionate backpacker and long distance walker who writes and takes photographs about these activities. I've done quite a few long distance walks including the Pacific Crest and Continental Divide Trails, the length of the Canadian Rockies, south-north through the Yukon Territory, south-north through Norway and Sweden, a round of the Munros and Tops in the Scottish Highlands and, most recently, the Pacific Northwest Trail.
The big news at the moment is your involvement with the videographer Terry Abraham. You have recently returned from a few weeks in the Cairngorms with him putting together a documentary about this amazing area of Scotland. How did it go up there and why is this something that you decided to do?
The filming is going very well. We have had some superb conditions with fine weather and good snow cover.  This meant we could camp on the summits and film there without problems with wind or spindrift. We still have some more filming to do so we're hoping for more good weather. The film will be premiered in Keswick on May 18 and there will be a DVD available, probably by the end of May.

I've done various bits of filming for videos and TV programmes over the years but these have always been short snippets. When Terry suggested this film the idea of a long production where I was the only presenter sounded like a new challenge so I was keen to take it up.
You do get asked to do TV work on occasion but a one hour documentary is a lot of invested time in the hills. What is it about Terry that made you do it?
 I had already seen and liked some of his work and I felt that his was a different approach to outdoor film making that looked like it had a great deal of potential. I also knew that Terry made his films while backpacking so I felt we had something in common that would make working together interesting.
You are walking the Scottish Watershed this year; tell us a little about this hike.
The idea for this walk came from Peter Wright's book Ribbon of Wildness, which describes the watershed in detail and also shows how unspoilt it is. I found the idea of an 850 mile high level route the length of Scotland very attractive and after a few years of it nagging away at me I decided I'd better walk it. I'm now hoping for better weather than last year!

The line of the watershed is quite sinuous as it follows the line of continuous high ground. Sometimes it's in the middle of the country, sometimes it's near the west coast. There are plenty of summits on the watershed but many of the highest – such as Ben Nevis – are not on it. Much of the route doesn't lie on popular paths or ascent routes either, which also makes it attractive. I'll be seeing some new country and some familiar country from a new perspective.
 In the Western Highlands on the TGO Challenge

You have a passion for writing, as I do. You are the author of 17 books and The Backpackers Handbook won Best Book 2012 in the recent TGO Awards. If someone were thinking of writing their first book what advice would you give them?
21 books actually! To a new writer I'd say start writing and see what appears. Have a passion for your subject and a desire to communicate it. I wanted to describe my long walks and hopefully inspire others to go out and do similar ones. I wanted to write the type of book I enjoyed reading myself too. I'd also say don't give up. My first book was rejected by several publishers but that didn't stop me writing (it never did appear and the manuscript is probably mouldering away at the bottom of a box of papers somewhere).  
I announced this week that it is my intention next year to hike the Continental Divide Trail in America which you hiked in 1985. How will it compare to the Pacific Crest Trail, and other walks and what can I expect in terms of terrain, physical effort and logistics?
Good choice! The CDT is superb. I hiked it three years after I hiked the PCT. In many ways it's similar, mostly being in high mountains but with long desert sections in the south. However the CDT is some 500 miles longer and much of the terrain is remoter than along the PCT. When I hiked it many of the trails it follows were sketchy too and there were virtually no CDT signs. I expect that has changed. I'd say the physical effort was much the same – it's a mountain trail with many ascents and descents. Logistically it's similar too. I had resupply boxes sent to Post Offices in or near the route with maps, dehydrated meals and other items in them. Much of my food I bought in towns along the way though. Few people had heard of the CDT back then. I expect it's better known now. More people hike it too. I only met two other parties hiking the whole route.
The Appalachian Trail – I'm not one for awards, I've hiked 2 of the big 3 in the States and I hope to do the CDT next year. The Triple Crown would be a sweet little piece of recognition for me but that is not why I am doing it. You hiked the PCT and the CDT but never took on the AT. Why is this?
The AT never appealed to me as much as the PCT or the CDT, or the Pacific Northwest Trail, Arizona Trail or the Canadian Rockies come to that. The AT seems less wild and more developed. I could be wrong of course! I have hiked one section of it, through the White Mountains, which I quite enjoyed but I didn't think the landscape compared to those out west. If I'm going all the way to North America I want scenery on the grand scale – alpine mountains, desert canyons, giant trees and, especially, wilderness and space. That said I may still do the AT one day, as much for the historical and cultural interest as the landscape. I'm currently reading "The Appalachian Trail: Celebrating America's Hiking Trail", published last year to celebrate the 75th anniversary of the trail, and the story of the trail is fascinating.
What is it about the USA, apart from the obvious 3 big hikes (AT, PCT and CDT) that draws the likes of you and me over there instead of exploring our own doorstep in Europe do you think? For example, we have the 6,000 mile round the coastline of Great Britain walk, countless E routes in Europe, some several thousand miles long and glorious scenery matching anything in the States. Why don't we do the long distance routes closer to home?
I like the USA and Canada for long walks because there are huge stretches of wilderness in those countries and those areas are my real passion. Which is not to say that there aren't great long distance walks in other parts of the world. My hikes the length of Norway and Sweden and round the Munros and Tops in Scotland were both fine walks mostly in wild country. Overall though Europe is more developed than the USA with much less real wilderness. Of course there are plenty of places I've never been – South America, Australia, New Zealand, Africa, most of Asia. There is only so much time! Also, my inspirations come from the Western European/American outdoor, walking and wilderness tradition – John Muir, Edward Abbey, Colin Fletcher, Hamish Brown, W.H.Murray, John Hillaby and more – and this has greatly influenced where I've walked. I've wanted to walk in the places that inspired those writers.
What other plans do you have for 2013 and beyond?
I never plan very far ahead! If the Cairngorms In Winter film is a success then Terry and I may make more films. And there are probably going to be a couple more books in the next few years. With regard to long walks I'd like to do another one in the desert SW of the USA (I hiked the Arizona Trail in 2000), probably roughly along the line of the Hayduke Trail.
You've been a gear reviewer for The Great Outdoors magazine since 1991 so let's have a couple of questions for the gear nerds out there. Firstly, as early as it is in 2013 do you have any tips for what could be your best bit of kit this year?
Too early to say! As a gear reviewer I get to see and sometimes try new gear many months before it comes out. The new gear appearing this spring I saw at a trade show last July. Items I like the look of are Primus's revamped Eta stoves, MSR's 1 litre Reactor stove and Rab's Myriad Neoshell jacket. However what I am looking forward to is Rab's range of water-resistant down sleeping bags and jackets. Berghaus introduced hydrophobic down two years ago and I've tried a couple of their jackets and been impressed. Rab is changing all their down gear over to water-resistant down later this year. I think this is the big gear breakthrough of the last couple of years.
The Ultralight movement is still very much with us and gaining momentum. My base weight on the Appalachian Trail last year was 1/3 of what is was on EL Camino 11 years ago. Many people argue that light gear won't last and 'isn't up to the job'. Manufacturers claim we need backpacks weighing 3 kilos, a summer sleeping bag is no good unless it's 1.5 kilos or more and one man tents will fail unless they are made from bombproof materials in excess of 2 kilos for the whole set up.
Do you think lightweight gear is inferior and will not last?
Secondly, excluding actually buying lightweight kit, what would be your best 3 tips to reduce your weight?
Lightweight gear varies, just like any gear. Some of it is flimsy; some will outlast much heavier items. Often weight has nothing to do with durability – it's to do with features and components. An all-singing, all-dancing pack with a complex harness system, multiple pockets and straps and heavyweight fabrics is going to be heavy. A much simpler pack made from Dyneema will be much lighter but at least as durable. A summer sleeping bag weighing 1.5kg! The bag I used on the PCT in 1982 didn't weigh that much. Neither does my current winter bag. With sleeping bags synthetic filled ones are much heavier than down-filled ones and won't last anything like as long so the heaviest bags are the least durable.

On my most recent long-distance walk, the 1200 mile Pacific Northwest Trail, my tent weighed 963 grams, my sleeping bag 708 grams and my stove 225 grams. All those items are still perfectly usable. I did wear out two pairs of shoes, but they did only weigh 698 grams a pair. I did have problems with my pack, which weighed 935 grams, and replaced it around halfway with one weighing 1400 grams. But then on the PCT and CDT packs weighing 2500 grams failed and had to be replaced.

I'm not a real minimalist ultralight backpacker. I like to keep the weight down but I'm not obsessive about it and I want to be comfortable both in camp and on the trail.

My three tips for reducing weight: 1. Weigh everything and see if there are items that are unnecessarily heavy, especially in the big three of pack, shelter and sleeping system. 2. Wear lightweight footwear – this makes more difference than anything else. 3. Think hard about whether you really need every item and leave behind duplicates – spare clothing, extra pot – and items that never get used (other than safety ones of course).
On Cathedral Pass in the Pasayten Wilderness, Pacific Northwest Trail
I sometimes feel that my long distance hikes now have somewhat escaped from why I want and need to do them, that is to escape everyday life, get out in the wilderness and soak up the revitalising effect that nature has on me. Sometimes I hate to admit that I resent the need to blog and update social media etc. en-route. However, I realise I need to do these tasks in order to do what I love and continue to work towards making a living out of it. Do you feel the same way and yearn to able to go and walk for 6 months with no distractions and commitments just to do exactly that, walk?
The Pacific Northwest Trail was the only long distance trail I've done since the advent of blogging and social media. On that trail I only blogged and updated social media when in towns. I didn't mind doing it then. Before electronic media I used to write and mail articles, films, letters and postcards in town anyway, as I've always wanted to communicate my experiences. On my first long distance walk – Land's End to John O'Groats – I sent postcards back to the YHA Adventure Centre in Manchester, where I was working at the time, and the staff moved a pin up the line of my route to show where I'd got to. On the PCT I sent hand written reports to the then Pacific Crest Club. I can remember being amazed when a PCC Journal arrived with my words in it before I'd finished the trail.

On the trail I don't have the time (or battery life) to do more than write my journal (which is still a paper notebook). I'm sure people can manage without hearing from me for a week or two! I wouldn't like to feel I had to blog or tweet every day, even if that was possible.
A lot of thru-hikers claim they have changed when they finish. Material possessions don't matter anymore, TV isn't important and often big changes are made to their lives to simplify them.
Why do you think the outdoors, especially when experienced for an extended length of time changes us for the better so much?
I suspect it's due to the closeness to nature and the realisation that we are part of the natural world and not separate from it. Also, when you carry everything you need on your back and you're enjoying yourself and feeling fulfilled then you realise that masses of possessions aren't necessary for happiness.  
 Braeriach & Loch Einich photographed during the making of The Cairngorms in Winter Film

Finally, the last question and hopefully an easy one to wind down with. If, for whatever reason, you could only do one more trip for one month, where would you go, what would you do, and why?
I would go to the Grand Canyon and hike its length. The Grand Canyon is the most amazing place I have seen. I've spent two weeks hiking there and I crossed it on the Arizona Trail. I'd love to go back and see more of it.

My thanks to Chris for agreeing to do this Q&A, you can keep up with his antics on his website here:
If you haven't seen the trailer for the documentary take a look, it's a great teaser to what's coming up. There is also a pre-release screening at the George Fisher Café in Keswick in May where Chris and Terry will be available to answer questions. You can get tickets (if there are any left) here:  
www.georgefisher.co.uk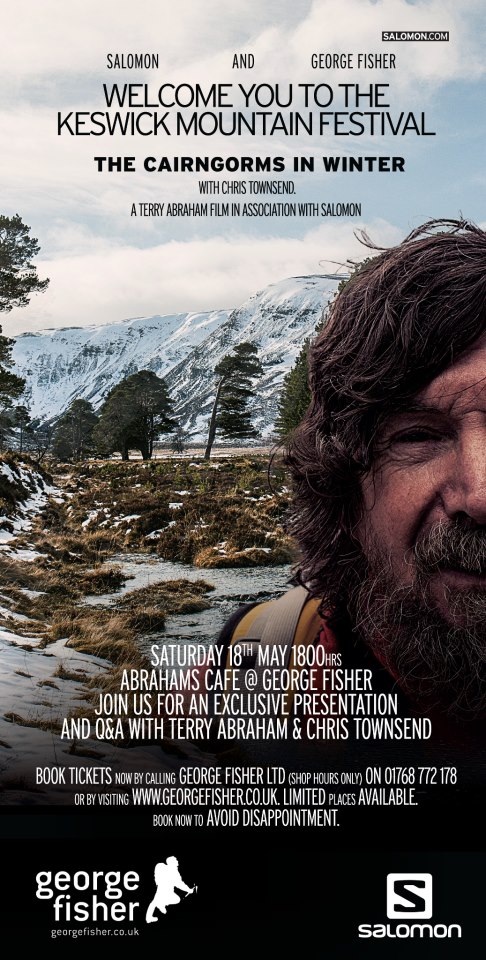 Funded by Kickstarter and supported by Salomon