Date: 23rd July
Current location: Hanover, New Hampshire
Miles walked: 1742.1
Miles left: 442.1
 Getting close!
I am currently in the beautiful town of Hanover in the state of New Hampshire. We arrived yesterday after a 7 day stretch where we enjoyed, thankfully, much cooler weather. The 4 week stretch of temperatures in the 90's appears to have finished and hopefully are gone for good.
The colder nights, however, have given myself, Lazagne and Thirsty a new problem to sort. Our hammocks were fine in the hot weather but now the nights are chilly and we are cold. A hammock needs insulation underneath, a Thermarest or foam pad will do the job but tends to slip and move around so the only solution is an insulating quilt that suspends underneath and holds in the body heat. We are waiting for these in the post and as it will be a few days before they arrive we have been trying to temporarily solve the dilemma. Lazagne suspended his poncho under his hammock and filled it with dry leaves. This would have worked we felt but the leaves were damp and the moisture took away any insulating properties. We both settled on scooping up a pile of leaves, placing our ground cloth over this, then an insulating mat. Lazagne dealt with any Mosquitos whereas I put my hammock on the ground with my sleeping quilt inside and suspended the mesh above me with 3 trekking poles to form a triangle. It worked and we both enjoyed a warm nights sleep.
The net result of too much sweat and too much dirt!
They say that the 2000 mile mark on a thru-hike is where hikers really start to hurt. It's true, our bodies are tired, muscles twinge, old injuries flare up and new ones complain. The hills seem harder and there are some right stinkers waiting for us as well. Despite this we are still trying to pull in 25 miles wherever possible but the further north we venture the harder this becomes. We are in New Hampshire, the penultimate state and this was at times very testing, the hills not particularly long but steep. Gasping for breath and soaked in sweat we reach another summit and deal with the hurt for a couple of minutes before it subsides. Then we build ourselves mentally for the next one.
We passed through Vermont in a few days and after a disappointing start I have grown to love this state, especially the woods up here. Part pine and part oak, maple and silver birch, the trees seemed more spaced out, letting in shafts of light that paint patterns on the ground. Occasionally we break out into meadows and fumble for our sunglasses before being blinded. We are about 70 Miles from the start of what is regarded as the hardest part of the trail. The White Mountains, known locally as 'The Whites' is a harsh and physical section with extreme weather and big mountains, we expect our daily average to fall to around 15 over the week or so it will take to finish. After that the roller coaster ride continues into the final state of Maine.
The end is in sight . . .
 Chocolate Milk – The protein of choice!
Trail Designs Caldera Cone Giveaway – Win a stove! (Competition now finished)
 The king of stoves?
The Caldera Cone system by Trail Designs has been around for a while but far from being threatened by other newer designs, it still holds its ground and it's the other manufacturers still trying to make up the ground and come up with something as brilliant. It ticks all the right boxes for a backpacking stove: it's light, compact, beautifully simple, durable, efficient and relatively cheap.
The actual cone part of the system can be made from either aluminium or titanium although I'd recommend paying the little extra and getting the latter which is lighter and better at retaining its shape. It comes rolled up in a plastic caddy, which can also be used as a meal bowl and mug and there is room also to fit in a fuel container and the supplied fuel measuring cup. The cone is formed into a ring and clipped together with a sort of tongue and groove clip. This acts as the pot support, wind shield and also funnels heat up the sides of the pot making it more efficient. About one tablespoon of alcohol will boil a litre of water. It's not the quickest but if you're camping, what's the rush anyway?
The burner itself is super light and made from a recycled drinks can. Because pot size varies from one manufacturer to the next, Trail Designs make the cone system for a lot of the popular designs. It's not a case of buying the lot first, I'd see what models are covered by the cone and then make your decision based on that. Or, by one of the Keg models with a pot supplied, again made from a drinks can. My current cone has so far travelled some 4000 miles and been used around 500 times. It is capable of doing another 4000 and probably another 4000 on top of that. It's a no brainer and definitely the King of Stoves.
Want to win one?! Courtesy of Trail Designs I have 2 models to give away. One is the Keg-F model with it's own 'pot' made from a recycled drinks can and suitable for a solo camper. The other is designed for 2 people – the Sidewinder model with an Open Country 2 qt hard anodized pot. Everything you need except fuel is included.
Click here to see the Keg specs at Trail Designs website.
Click here to see the Sidewinder model.
All you have to do is go to Trail Designs Facebook page and hit the 'like' button:
Next, go to my Facebook page and do the same:
Finally, scroll down to the bottom of any page on this website and subscribe (no spam, your details will not be passed on and all you will receive is the occasional notification when I post something. Go back to my Facebook page and post the words 'I want one!'
I will Pick 2 winners at random and announce there.
Good luck!
Date: 27th July
Location: North Woodstock, New Hampshire
Miles walked: 1794.8
Miles left: 389.4
Poster on the wall at the Hikers Welcome Hostel
The end is within striking distance. 389 miles may sound like a lot but to a thru-hiker it's around 3 weeks away, putting me on for a finish around 15th to 20th August. We are, however, now in the Whites. A week long section where average miles walked in a day plummet to around 15 from our usual 25. This is due to the terrain severe elevation changes and extremely steep hills. In the middle is Mt Washington at just over 6000 feet, unfortunately there is a train up to the summit which means it will probably be full of tourists wearing 'I went to the top of Mt Washington' but at least we should get some food.
Our first taste of the Whites came yesterday when we climbed and descended over Mt Moosilauke. A 4000 feet ascent had us stopping after 30 minutes craving food and sugar. I downed some dried papaya, peanut butter and other sweet treats along with a litre of isotonic drink, Bush Goggles and Thirsty also needed re-fueling before the climb eased up a little and we topped out on a flat plateau. Unfortunately it was a cloudy day so views were non existent. We stopped briefly for a photo and then headed down. The last third was ludicrously steep and tentative, careful steps on slick wet rock were the order of the day and we eventually reached the bottom to look up in disbelief at what we had just clambered down.
All three of us were suffering from rashes around the waist, armpits, stomach and back where a mix of sweat, damp and humid conditions resulted in painful sores. We got a ride to North Woodstock and took a room at the Econolodge to get cleaned up, dress our wounds and get some sorely needed sleep. As Bush Goggle said,
"It roughed us up but we won the fight."
We have similar hiking over the next 5 or so days, a check on the elevation graph shows some alarming mountains, climbs and descents but it is regarded as the best section of the entire trail and ask many a hiker what section of the AT they remember with most fondness and most of them will answer "The Whites". After that we are into Maine, the final state where the way does ease a little but is still tough going.
First view of Mt Moosilauke
The weather has turned over the past few days. Having become used to very dry, humid and hot conditions we have seen little rain over the past two months. Dark clouds now stream over us and the nights, particularly up high have turned cold which has proved a problem with my hammock. I had no way of insulating my hammock underneath and if the nights were cold then I got chilly underneath. This can be solved with a piece of foam but it restricts the user to sleeping on this only and I tend to slip or move off it. I have solved the problem (hopefully), by using my Rab summer sleeping bag and suspending my synthetic quilt under the hammock to keep in the heat that my body generates. We are cutting things are little fine with clothing too, carrying pretty much the bare minimum we can get away with. I don't have waterproofs, depending on my meagre poncho and my cold weather clothing is limited to a synthetic jacket, hat and gloves. I hope it will be enough to get through the Whites.
I hope to get another couple of entries on the blog with the usual photos and video. For those that have been asking about my next book, I will start writing when I get back to England and hopefully you can get your hands on it around Spring of 2015.
The winners of the Trail Designs Caldera Cone giveaway I hope to announce within the next couple of weeks. Good luck!
Time spent in the Privy, fresh pesto, getting wet, turning reflective, flat lines and why didn't anyone tell me about Maine?!
 It's not every day you get picked up by a Limo but here, Thursty and Bush Goggles persaude the driver to let 3 very wet, smelly hikers in his car.
Caldera Cone Competition winners!
A little later than I had hoped for to announce the winners but thanks to all those who responded. The winner of the one person Caldera Keg is:
Nathan Lare
The 2 person set up with pot goes to:
Gerald Theodore Smith
Could you please both email me your address so I can get them mailed out. Congrats!
Time in the privy, fresh pesto, getting wet, turning reflective, flat lines and why didn't anyone tell me about Maine?
I'm sitting on the edge of East Flagstaff Lake. It started raining in the early hours, a familiar pattering of drops on my tarp which whilst sleeping is comforting. It's now mid-morning and Juggles, who has finally caught us up and Thirsty are also tucked away under our shelters. The plan was to make 18 miles today to the Kennebec River where a ferry carries hikers from one side to the other. It stops running at 4pm and the cut off time to make the 19 miles was 10am. It's now 10.45 and we are resigned to waiting the weather out, not for the first time in the past few days either. Although it is raining, it's a sweet place to stop and rest.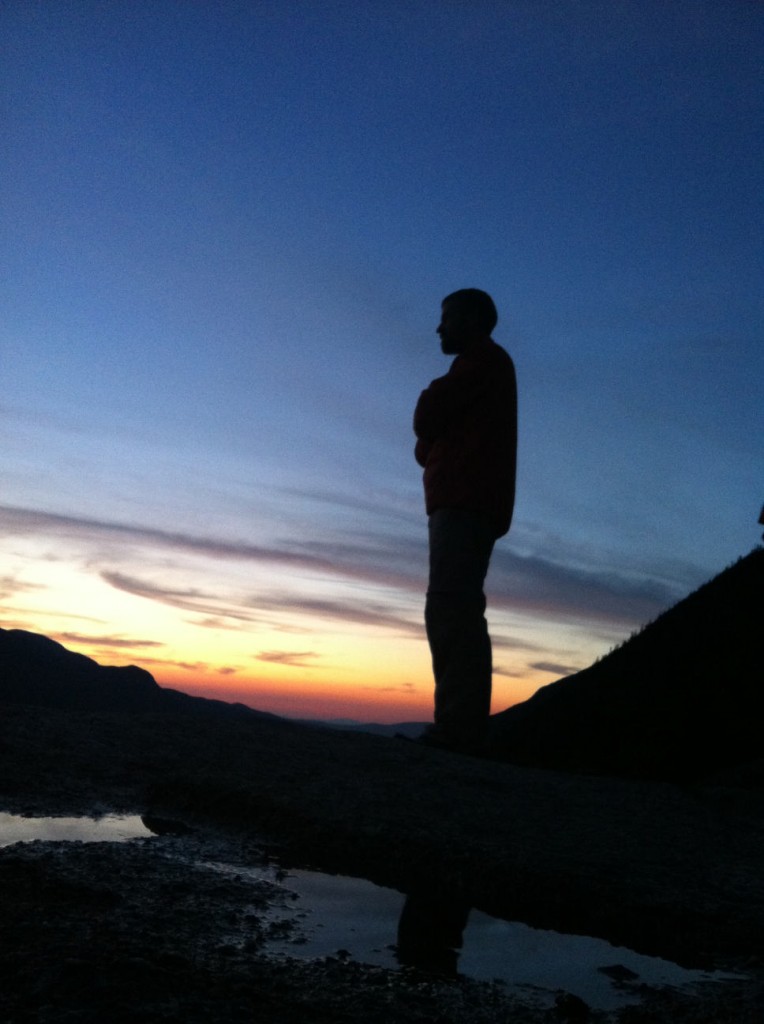 Pondering the upcoming White Mountains from Webster Cliffs
The lake is long and wide. I look at the far side and wonder how long it would take me to swim there. I peer around the trees to lakes end, it must be at least 4 miles away. Cloud hangs low over the opposite mountains and pockets of mist weave in and out of the forest, weak waves break on the shingle shore with barely a sound. The occasional Loon fishes for dinner and come evening they treat us to their familiar cries, a treat whenever we are lucky enough to witness it.
When we arrived yesterday we couldn't believe our luck. After a damp morning the sun broke through and blue skies and mingled happily with huge cloud formations. We watched storms rage all around us and saw the sun set spraying reds and oranges on the clouds bellies. The setting was awesome, possibly the best of the trip but Maine has a habit of surprising you. The elements play games, the terrain toys with you and suddenly our environment has tured wild and remote. Taking breaks on the mountains I regularly pass over offer breathtaking panorama over this detached and lonely part of the States. The hills and trees stretch for miles and man has not blotted the landscape. The cloud formations are epic, from whites to near black, huge bubbling masses of moisture racing past overhead, it's absolutely breathtaking to experience.
 One of many, many lakes we have passed on the way.
Maine is wild. For the first time we can look out over this land of trees and water and not see anything man made. Pine and birch trees, amongst others, stretch out as far as the eye can see. Huge lakes nestle in between the mountains, sitting pretty like glistening pools of mercury. Mountains and hills carry away to infinity, each subsequent ridge a differing shade of blue. It truly is a monumental mass of wilderness and reduces each one of us to a state of humble gratitude. Get lost out here and you could be in trouble.
Sitting out a case of Norovirus in Spalding Mountain Shelter.
No one told me about Maine! I heard stories about every state on our northbound journey. The meadows of Virginia, the rocks in Pennsylvania but Maine offered few stories. We sailed through the White Mountains, difficult but not as hard as we expected. Stumbling down from the mountains to Pinkham Notch we rested in Goreham for a day and thought we had completed the hardest part but we had been fooled. The terrain has been brutal during the first half of Maine. The Mahoosic range tore me apart and left me feeling as though I had been in a boxing match every day. Trouble was every day the opponent seemed to improve. The ascents and descents were harsh and at times unbelievable, shiny tree roots webbed over slick, wet rock making the going tricky. Then, still recovering, we hit the Bigelow range. My body was screaming for mercy, hill after hill blocked the way and progress was reduced from 25 miles a day to 15, averaging little better than 1 mile an hour.
The view from Saddleback Junior on a great day for the cloud appreciation society. I sat here for over an hour, mesmerized.
For days I have been turning the pages in my guidebook to be faced with familiar elevation graphs sweeping up and down, high then low, dipping and diving. Today, finally, I turned the page and saw what I had been waiting for. We are finally out of the mountains and our elevation line has collapsed from mountains to a flatter series of lowlands for the next 160 miles or so. I have loved being up high but my body is beaten up and needs to coast into the finishing line on to preserve any hope of remaining in one piece. I have injuries that need to rest and heal and I cannot offer them sufficient time to do so.
Is the Appalachian Trail hard? Yes, I think harder than the Pacific Crest Trail. More often than not it is the actual surface of the trail that impedes progress. A messy mix of tree roots, rocks in the shape of slick slabs or smaller, ankle breaking points mixed in with a generous mix of mud and recently, water crossings. I crossed 4 rivers yesterday alone. Maine, it would appear, is not too fond of the humble bridge.
At the end, 113 miles distant and about 5 days away lies Mount Katahdin and the end of both the Appalachian Trail and my journey. A 4000 feet climb up plus the descent also will prove a hard last day. I am eager to finish but we are not rushing there, taking our time through beautiful surroundings and savoring our last days. Thirsty, Juggles, Lazagne and I have slowed down. We no longer want to pull in 25 miles in a day, the experience is drawing to a close and we need to make it last as long as possible. Bush Goggles, our companion for so many weeks had to move ahead to meet relatives. We all miss him, a positive character with a never say die attitude has, by now probably finished.